Reply to comment
Submitted by ehopf on 31. December 2009 - 14:06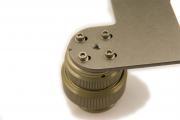 Intrinsically, the KISS does not allow any adjustment
- and that is by intention !
When you shoot, you like to concentrate on the subject and not on equipment settings.
And we want to it keep up.

However, our panoramic heads MiniRotor and David... do offer an optional fitting for KISS called 4KISS mount: The latest version of KISS is equipped with 4 slotted holes to adapt the 4KISS mount. Those do allow to move and adjust KISS up to 2.5 mm relative to the rotational axis. While the 1/4" center screw can be completely plunged on David..., it must be disassembled on the MiniRotor.

Mounting with the 4KISS mount makes sense, for example, if you shoot with a wide-angle zoom, where the NPP varies slightly with the focal length.
Also in conjunction with a fisheye, where the NPP is not clearly defined, the position of the rotation axis can be fine-tuned according the preferences of the photographer.
Attached (see below) you will find information on the drift of the NPP-position of several fisheye lenses.